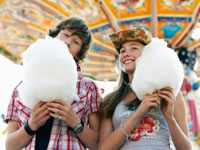 (Getty Images)
By Sarah Klein
THURSDAY, Jan. 21, 2010 (Health.com) — One in five teens in the U.S.—and more than 40% of obese teens—have abnormal cholesterol, whether it's low HDL (good cholesterol); high LDL (bad cholesterol); or high levels of triglycerides, another type of blood fat, according to a new report from the Centers for Disease Control and Prevention (CDC).
The findings suggest that the American Academy of Pediatrics's (AAP) 2008 guidelines—which recommend more aggressive cholesterol testing and intervention in kids, particularly the overweight and obese—make sense, the authors conclude.
The 2008 guidelines created controversy because, for the first time, cholesterol tests were recommended for overweight or high-risk children as young as 2 years old, and treatment with a cholesterol-lowering statin was an option for children as young as 8 who had bad cholesterol, or LDL, over 190 mg/dL, and who couldn't lower their cholesterol with diet or exercise. (The previous guidelines said children should be older than 10 before medication was considered, and statins weren't on the list.)
But adding confusion to the controversy, 2007 guidelines from the U.S. Preventive Services Task Force say the evidence is insufficient for cholesterol testing in children and young adults up to age 20.
The result is that many parents aren't sure whether they should have their children tested and what to do if a youngster does indeed have high cholesterol. And pediatricians may be testing more children, even those who don't fit the guidelines.
Testing the right kids?
Kathryn Leslie, 17, is a vegetarian from Albany, N.Y. She prepares Tofurky sandwiches to complement her mom's vegetable-heavy family meals, and at 5'2" and 110 pounds, she isn't overweight. So even Leslie's doctor was surprised to find out she had high cholesterol.
So was her mom, Mary, who notes there's no family history of heart disease. "My cholesterol is really low and my husband's cholesterol is normal," she says. "[Kathryn] is not overweight and eats an extremely healthy diet.  It just came out of nowhere." So why did she have the cholesterol test in the first place? Her mother isn't sure.
"I didn't even question why it would be necessary, as she was already getting blood work done anyway, so it was just one more test," Mary says. "I didn't ever imagine there would be anything wrong with her cholesterol, so I really didn't give it much thought."
In general, experts worry about "just because" tests because they lead to anxiety, unnecessary biopsies (which is a common concern with Pap smears), and potentially harmful and pricey treatments for people who don't need them. But cholesterol tests are relatively cheap—$50 or so—and can be done if blood is being drawn for other tests, which makes them prime candidates for "just because" testing.
Hard data on children's cholesterol tests are scant (about 7% of kids were tested prior to the 2008 guidelines). But anecdotal evidence suggests pediatricians are now performing more cholesterol tests.
"There's more awareness, [because the new] guidelines really got a lot of attention in the media and that trickled down to the medical field," says Joyce M. Lee, MD, an assistant professor of pediatric endocrinology at the University of Michigan.
Although the 2008 guidelines and the CDC results suggest testing obese children is helpful, Dr. Lee and colleagues recently published a study that suggests that body weight isn't a strong indicator of which kids will have high cholesterol.
Overall, one-third of adolescents in the new CDC survey were overweight or obese; 22% of the overweight teens and 43% of the obese teens had at least one blood-fat abnormality (as did 14% of teens who weren't overweight). The CDC survey included 3,125 children and teens ages 12 to 19, who were tested between 1999 and 2006, according to the report published this week in the Morbidity and Mortality Weekly Report.
"It used to be that family history drove who should be screened. Now the recommendations say to include weight as a criterion," says Dr. Lee. "With obesity being such a problem in [American] children, conditions that we thought were exclusively adult conditions do seem to be prevalent in a small amount of children."

Next page: Parents confused about what to do