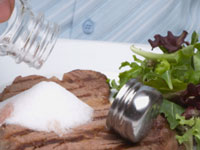 (Getty Images)
By Ray Hainer
WEDNESDAY, Jan. 20, 2010 (Health.com) — If Americans cut their salt intake by just half a teaspoon per day, it would produce public health benefits on par with reducing high cholesterol, smoking, or obesity, a new study has found.
The number of heart attacks in the U.S. could decline by up to 13% if adults could just slash their daily salt intake by 3 grams, or about 1,200 milligrams of sodium, according to the study, which was published Wednesday in the New England Journal of Medicine. New cases of heart disease and the number of strokes could also be expected to decline, by up to 11% and 8%, respectively.
To achieve a similar reduction in heart attacks and other heart-related problems, the researchers estimate, nationwide tobacco use would need to be halved. Alternatively, obese adults would need to reduce their body mass index by 5%, or all adults at low-to-medium risk for heart disease would need to take cholesterol-lowering statins.
Even a reduction in daily salt intake of just 1 gram (or about 400 milligrams of sodium) would produce "large declines" in the rates of cardiovascular events, according to the study.
"Just targeting slightly lower salt [intake] would have some benefit for everyone in the U.S.," says the study's lead author, Kirsten Bibbins-Domingo, MD, an epidemiologist and assistant professor of medicine at the University of California, San Francisco. "This is the ideal type of intervention for those who are interested in public health to get behind, because the effects would be so dramatic."
The study suggests that food manufacturers would need to be the primary target of the projected reduction in salt intake, since processed foods—and not the salt in your salt shaker—account for between 75% to 80% of American salt consumption.
"I got interested in this work because, once I started looking at the labels, I was shocked by how much salt I had no control over," Dr. Bibbins-Domingo says. Seemingly healthy staples such as breakfast cereal, pasta sauce, and sandwich bread likely contain more salt than one would think, she adds. "It's hard for me to tell my patients to make different choices, because it's hard for me to make different choices."
Dr. Bibbins-Domingo and her colleagues at UCSF estimated the benefits of salt reduction using computer models. The models, which took into account heart disease risk factors such as systolic blood pressure, cholesterol levels, and smoking status, relied on data from government sources and previously conducted studies.
The models assumed that salt intake is directly linked to blood pressure, and that blood-pressure levels have predictable effects on cardiovascular risk. Research has shown that excessive salt intake is associated with high blood pressure (or hypertension), which can damage the arteries and lead to heart disease, stroke, and other health problems.
Next page: Americans are eating too much salt