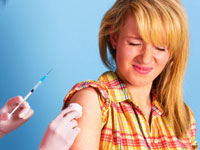 (Getty Images)
By Denise Mann
TUESDAY, Aug. 18, 2009 (Health.com) — One in four American girls ages 13 to 17 has been given at least one shot of Gardasil, the human papillomavirus (HPV) vaccine that is heavily marketed as a way to prevent cervical cancer.
Now, a new study says that Gardasil is safe and no riskier than other vaccines, although there is a small chance of fainting or developing a blood clot after getting the shots, according to a study in the Journal of the American Medical Association.
Still, many adolescent health specialists and epidemiologists continue to question the benefit of vaccinating all girls against HPV, a sexually transmitted disease that causes genital warts and some cases of cervical cancer.
A related study in the same journal looks at how the vaccine was marketed.
Sheila M. Rothman, PhD, and David J. Rothman, PhD, both of the College of Physicians and Surgeons, in New York City, say the vaccine manufacturer, Merck & Co., may have swayed the debate by providing educational grants, ready-made slides, and other materials to professional medical associations such as the Society for Gynecologic Oncology and the American College Health Association.
"Much of the material did not address the full complexity of the issues surrounding the vaccine and did not provide balanced recommendations on its risks and benefits," they wrote. "By making this vaccine's target disease cervical cancer, the sexual transmission of HPV was minimized, [and] the threat of cervical cancer to all adolescents was maximized."
Next page: Vaccine had worldwide sales of $1.4 billion in 2008