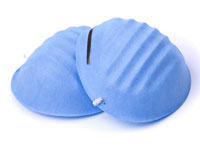 (ISTOCKPHOTO)
By Heather Mayer
MONDAY, Aug. 3, 2009 (Health.com) — From Mexico to China, people around the world have worn face masks to protect against swine flu, also known as the H1N1 virus. The problem? Experts could never say for sure if such masks actually help you stay healthy.
Now, the largest study to date on the subject suggests they do. When sick people and their families wear surgical face masks and wash their hands within the first 36 hours of symptoms, healthy family members are indeed less likely to get seasonal flu, researchers say. They think the results may apply to H1N1 as well.
So far, 94,512 people around the world have been infected with swine flu, and there have been 429 deaths in 122 countries.
"Many people believe that coughs and colds are so infectious that there is really no stopping them, however hard we try," says Benjamin Cowling, PhD, the lead author of the study published this week in Annals of Internal Medicine. "Our results suggest that is not the case, and, in fact, transmission can be effectively stopped with just some simple precautions."
Cowling, an assistant professor in the School of Public Health at the University of Hong Kong, and his colleagues looked at 407 locals who came down with regular seasonal flu (not swine flu), which was confirmed by laboratory tests.
The patients were divided into three groups: One group (the control group) was told about the benefits of a healthy diet and lifestyle in terms of preventing illness; a second group was told to wash their hands with soap and water frequently, including when they coughed or sneezed, and to use an alcohol hand rub after touching contaminated surfaces; and a third group was told to wash their hands and use surgical face masks as often as possible at home (except when they were eating or sleeping).
The researchers found that when people and their families wore face masks and washed their hands within 36 hours of the first symptoms, their family members were less likely to become infected. However, those who started using masks or washing their hands after the 36-hour time period had passed saw no benefit.
In tandem with hand-washing, face masks seem to work better than hand-washing alone, but the authors could not conclusively prove which intervention was responsible for the drop in infections of family members.
Next page: In general, CDC does not recommend face masks