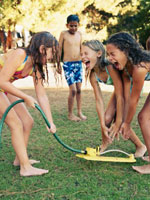 (Getty Images)
By Denise Mann
MONDAY, Aug. 3, 2009 (Health.com) — A whopping 70% of American kids aren't getting enough vitamin D, and such youngsters tend to have higher blood pressure and lower levels of good cholesterol than their peers, according to two new studies published this week in the journal Pediatrics. Low vitamin D levels also may increase a child's risk of developing heart disease later in life, experts say.
"We were astounded at how common it was," says study author Michal Melamed, MD, an assistant professor of medicine, epidemiology, and population health at the Albert Einstein College of Medicine, in the Bronx. "There is a lot of data that suggests adults with low vitamin-D levels are at risk for diabetes, high blood pressure, cardiovascular disease, and a lot of cancers, and if kids start out with low levels and never increase them, they may be putting themselves at risk for developing all of these diseases at a much earlier age."
Vitamin D is often called the "sunshine vitamin" because the human body makes it only when exposed to sunlight—although it only takes 10 to 15 minutes a day to make an adequate amount. Vitamin D, which helps the bones better absorb calcium, is also added to multivitamins and milk.
In Dr. Melamed's study, the researchers looked at the vitamin D levels of more than 6,000 people ages 1 to 21. They checked for vitamin-D deficiency, which is defined as less than 15 nanograms per milliliter of blood (ng/mL), and vitamin-D insufficiency, which is defined as 15 to 29 ng/mL. Overall, 7.6 million, or 9%, of U.S. children were vitamin-D deficient, and another 50.8 million, or 61%, had insufficient levels of this important vitamin in their blood.
Children with low levels of vitamin D were more likely to have high blood pressure and lower levels of high-density lipoprotein, also known as good cholesterol—two factors that are considered major risk factors for heart disease later in life.
Children with low vitamin-D levels also had higher levels of parathyroid hormone than their counterparts with adequate vitamin D in their blood. Parathyroid hormone is a measure of bone health. When levels are high, it suggests that bones need more calcium to grow.

Next page: Children with darker skin are at higher risk than others