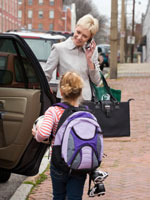 (Getty Images)
By Denise Mann
MONDAY, July 20, 2009 (Health.com) — There may be a reason why children's asthma rates are so high in urban areas. Youngsters with stressed-out parents and exposure to air pollution have a higher risk of asthma, according to a study in the journal Proceedings of the National Academy of Sciences.
"The new study raises some questions about why stress-plus-pollution leads to worse problems than either alone," says Harold J. Farber, MD, an associate professor of the pediatric pulmonary section at Baylor College of Medicine and Texas Children Hospital, in Houston, and the author of Control Your Child's Asthma. "Why is it that this combination is somewhat more toxic than either alone?"
In the United States, about 22 million people—including 6 million children—have asthma. City-dwelling children have about a 22% to 45% higher risk of developing asthma than their peers living elsewhere.
In the new study, a research team led by Rob S. McConnell, MD, a professor of preventive medicine at the Keck Institute of Medicine at the University of Southern California at Los Angeles, tracked 2,497 children from the region. The children were ages 5 to 9 and had no history of asthma or wheezing.
Children with stressed-out parents who lived around high levels of traffic-related pollution were at a higher risk of developing asthma during the three-year study period than children without stressed parents. Stressed parents tend to have children who report more stress too, but the researchers did not measure the children's stress levels. Parents were considered stressed if they said their lives were unpredictable, uncontrollable, and overwhelming.
Next page: Why air pollution is so bad