Before finding my Feel Great Weight, much of my social life revolved around food-focused get-togethers with friends. My calendar always seemed to be packed with birthday dinners, barbecues, and Sunday brunches. At these events, it was difficult to stick to my diet because I saw my friends feasting on fattening foods and gulping-down cocktails. Needless to say, the more active my social life became, the more pounds I piled on.
When I began my weight-loss journey, I worried that it would be hard to shed the pounds without shedding some of my less-than-healthy friends. But I also knew that it wouldn't be any fun to fit into my skinny jeans if I could only wear them at home, alone and friendless.
At first, my friends were not at all supportive of my weight-loss efforts and continued to tempt me with rounds of cocktails and fatty appetizers at happy hour. Most of the time, I ended up caving in and indulging. My friends were my diet's worst enemies! I soon realized that if I didn't make some changes to my social life, I would never lose weight. But I also didn't want to choose between my friends and having a waistline. Here's what I did.
Pay attention
It's a great joy for me to share a meal or a few cocktails with my friends, but when I dined with them, I often lost track of how much I ate. In the excitement of conversation, I didn't notice how many tortilla chips I'd eaten or if I was on my second (or third) dinner roll. Lingering at the table didn't help either: the longer I stayed at the table, the more I ate. I'd order another beer, snack on a plate of cold french fries, or finish off a friend's brownie sundae. Now, when I am finished eating, I put my napkin (and any other trash, like a straw wrapper) on top of my plate. It signals to the server that he can take away my plate, plus it stops me from picking at it. I never want to eat off a plate with garbage on it!
I also try to pace myself with the slowest eater at the table, which helps me pay attention to how much I am eating instead of wolfing down my food without a second thought. And I make my cocktails last forever by taking little sips instead of big gulps. Sometimes I'll drink them so slowly that they become warm and unappetizing. It's so much easier to abandon a lukewarm beer than an ice-cold one!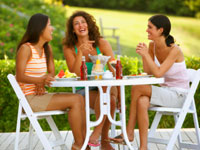 Getty Images
Don't become that friend
One of my closest friends is a self-proclaimed "drama queen," but I felt obligated to console her every time she recapped her most recent life crisis. This often took place over a glass (or half bottle) of wine or a pint of ice cream. I quickly became her go-to eating and drinking buddy anytime she had a problem. I always enjoyed chatting with her and blowing off steam after a tough workweek, but three beers and a plate of nachos later, I felt miserable about myself.
Now, if my friend calls me in a panic, we discuss her stressful situation over the phone and plan a time to meet up for a walk or a cup of coffee—that way our gabfest doesn't turn into a full-blown binge! Limiting my nights out to one night a week, typically Fridays, has made all the difference in dealing with my own food drama.