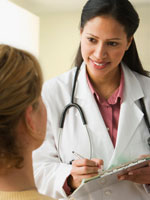 By Denise Mann
MONDAY, June 15, 2009 (Health.com) — Leonard Kleinman, an 82-year-old retired grocer in Boynton Beach, Fla., always thought of psoriasis as a nuisance separate from his other health problems, but now he is learning that his skin condition, which causes raised, silvery plaques on his legs, may actually be related to some of his other health issues.
"My doctor told me I was at risk for diabetes, and he referred me to a cardiologist because of some blockages in my heart arteries," says Kleinman. "It didn't occur to me that this could be connected to my psoriasis. But he said that it could be the case and I needed to take it seriously."
Like Kleinman, about seven million Americans have psoriasis. Now, a new study suggests they are more likely to have heart attacks; strokes; blockages in the arteries of the legs, arms, and groin; and a greater risk of earlier death than those who do not have the inflammatory skin disease. The findings, published in the June issue of the Archives of Dermatology, add to a growing body of evidence that links psoriasis to a laundry list of other systemic, inflammatory diseases.
"Psoriasis is not just a skin disease, but rather a disease that appears to have diffuse manifestations throughout the body," says study author Robert S. Kirsner, MD, PhD, a Stiefel Laboratories professor and vice chairman in the department of dermatology and cutaneous surgery at the University of Miami Miller School of Medicine. "Patients with psoriasis and clinicians caring for patients with psoriasis should be aware of this association and take appropriate action to limit risk of developing these diseases."
People with psoriasis should have regular screenings and aggressive treatments to reduce the risk of heart and blood vessel disease, he says. Some patients may need to take aspirin daily; the low-dose variety helps reduce the risk of blood clots that can cause heart attacks and strokes.
Next page: Psoriasis linked to earlier mortality