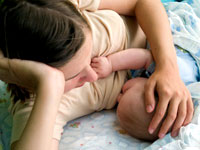 123rf
By Denise Mann
MONDAY, April 20, 2009 (Health.com) — When Lana Phillip, now 45, decided to breast-feed her baby, she never imagined she would continue for three whole years. "I was living in Jamaica at the time where we say 'breast is best,' but I continued for so long mainly because my daughter wouldn't take anything else," she recalls. Sure, she knew that breast-fed babies tended to be healthier, but she didn't know that she also might be doing her own heart a favor—an added bonus, as Phillip has a strong family history of heart disease and diabetes.
Women who breast-feed for longer than one year seem to be 10% to 15% less likely to develop high blood pressure, high cholesterol, diabetes, and cardiovascular disease after menopause than women who don't breast-feed, according to a study in the May issue of Obstetrics and Gynecology.
"At my last physical, I had no signs of any heart problems," says Phillip, who has been living in Brooklyn, N.Y. since 2000.
The U.S. Surgeon General currently recommends that babies be fed exclusively with breast milk for the first six months of life, but "the longer women nurse their babies, the better for both of their health," says lead study author Eleanor Bimla Schwarz, MD, an assistant professor of medicine, epidemiology, obstetrics, gynecology, and reproductive sciences at the University of Pittsburgh Center for Research on Health Care in Pennsylvania.
Next page: Do the best you can, experts say