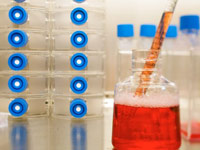 Getty Images
By Karen Pallarito
TUESDAY, April 14, 2009 (Health.com) — A handful of people with type 1 diabetes have been able to survive without insulin shots for more than 2-1/2 years, on average, after having their own blood stem cells removed and reimplanted through intravenous injection, U.S. and Brazilian researchers reported on Tuesday.
Overall, the technique has been tried in 23 people, mostly boys and young men, who were treated within six weeks of a new diagnosis of type 1 diabetes. People who have type 1 diabetes, an autoimmune disease that destroys the insulin-producing cells in the pancreas, typically need insulin shots to survive. (People with type 1 make up only about 10% of all diabetics; most people have type 2, which can be controlled with diet, exercise, oral drugs, or insulin shots.)
After the transplant, 20 of the 23 patients became insulin free for at least a few months or even years. Twelve of them stayed free of insulin for an average of 31 months and eight patients had periods ranging from six to 47 months in which they were free from insulin.
One patient was free of daily insulin for more than four years before needing insulin shots, according to the report in the Journal of the American Medical Association. The stem cell transplants were performed at a single center in Brazil.
The new findings are "very encouraging," says Richard K. Burt, MD, associate professor of medicine at Northwestern University's Feinberg School of Medicine, who presented the findings at a Washington press briefing. Still, he said, more study is needed before it's known whether the treatment truly alters the course of the disease. "I never use the word 'cure,'" says Dr. Burt, who is also chief of the Division of Immunotherapy and Autoimmune Diseases at Northwestern Memorial Hospital in Chicago. "We just have to wait and see."
Next page: Transplant increases the risk of infection