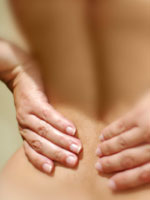 Istockphoto
By Theresa Tamkins
FRIDAY, March 13, 2009 (Health.com) — Ozone is considered pollution on ground level and an environmental protector when it's in the earth's atmosphere (that's why a hole in the ozone is a bad thing).
Now it seems the molecule is a bit of a health paradox, too. A large new study released this week found that breathing in ozone-laden smog increases the risk of dying of respiratory diseases. But a second group of researchers also reported that injecting a small amount of ozone into a bad back may ease chronic pain caused by a herniated disc.
Injections of ozone and oxygen can shrink a disc that's bulging out and putting pressure on surrounding nerves and tissue, according to Kieran Murphy, MD, who presented data on the technique at the Society of Interventional Radiology meeting in Chicago.
About 20,000 people in Europe have been treated with the ozone-injection technique, says Dr. Murphy, who presented data at the meeting on 8,000 patients treated in Italy and Austria. He says the success rate is 70 to 75 percent in terms of pain relief, and few back pain patients need more than one injection. (About 6 out of 50 in an early trial, he says).
Next page: How it works