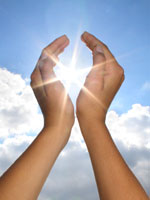 Istockphoto
By Theresa Tamkins
MONDAY, Feb. 23, 2009 (Health.com) — Vitamin D may protect people—especially those with asthma and other chronic lung conditions—from colds and other respiratory tract infections, according to the largest study to date to look at the link.
Unlike with other vitamins, a deficiency of vitamin D (which is known as the sunshine vitamin because sun exposure triggers production in the body) is quite common in the United States—particularly in winter. At least 50% of people in the new study, which included nearly 19,000 people 12 and older, had levels that suggested less-than-optimal protection against respiratory tract infections, according to the report in the Archives of Internal Medicine.
"People think that if they have a good, balanced diet that they will get enough vitamin D, and that's actually not true," says Michal Melamed, MD, an assistant professor at Albert Einstein College of Medicine in New York. "Unless you eat a lot of fish and drink a lot of milk, you can't get enough vitamin D from diet."
In the study, Adit Ginde, MD, of the University of Colorado Denver School of Medicine, and colleagues at Harvard Medical School and Children's Hospital Boston, found that people who had low blood levels of vitamin D were more likely to report having had a recent cold than those with higher amounts. What's more, the risk of a recent cold or other respiratory infection seemed to rise as vitamin D levels dropped.
Overall, 24% of people with the lowest levels (under 10 ng/ml) had had a recent cold, compared with 20% of those with slightly higher levels (10 to 29 ng/ml) and 17% of those with the highest levels (30 ng/ml). The link was even stronger in people with asthma, who had about six-fold greater risk of colds with low vitamin D, and in those with chronic obstructive pulmonary disease, who had a two- to three-fold greater risk.
Next page: Why vitamin D isn't like other vitamins