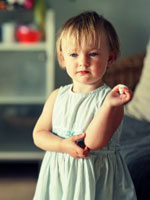 Getty Images
By Anne Harding
TUESDAY, Feb. 17, 2009 (Health.com) – Children with eczema are more likely to be diagnosed with attention deficit hyperactivity disorder (ADHD) than those without the skin problem, according to a study.
The children in the study had atopic eczema, a scaly, itchy skin rash that is typically caused by allergies and is common among infants. The rash often improves as a child gets older, although it does signal an increased likelihood that he or she will go on to develop allergies, hay fever, or asthma.
German researchers spotted the link in a study of 1,436 children and adolescents aged 6 to 17 who had atopic eczema and 1,436 young people without it. They found that 5.2% of eczema patients had been diagnosed with ADHD, compared to 3.4% of eczema-free youngsters, according to a research letter in this week's issue of the Journal of the American Medical Association.
Young people with atopic eczema were 54% more likely to have an ADHD diagnosis than those without  it. And the more frequently they had visited a doctor for eczema, the more likely they were to have been diagnosed with attention problems, say study coauthors Jochen Schmitt, MD, a dermatologist at Technische Universität in Dresden, and Marcel Romanos, MD, a child and adolescent psychiatrist at the Hospital Clinic of the University of Wuerzberg, both in Germany.
About 20% of children in Western nations are diagnosed with atopic eczema by age six. About a third of those children go on to be diagnosed with hay fever or asthma.
"Atopic eczema is highly prevalent in children and it is known to gravely affect the quality of life," Drs. Schmitt and Romanos wrote in an email. "Therefore the assumption that it might be related to or influence the presence of psychiatric problems is not far-fetched."
Next page: Can a child's diet affect ADHD symptoms?