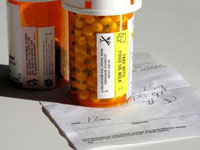 123rf
By Anne Harding
WEDNESDAY, Jan. 14, 2009 (Health.com) — Susan Craig's brother Roger died of a pulmonary embolism in 2007, at age 38. Diagnosed with bipolar disorder in high school, he had been on antipsychotic drugs for years. At the time of his death, he was carrying 280 pounds on his 6-foot-4-inch frame.
Craig, a public relations specialist who works at Columbia University in New York City, knew that Roger's medications could cause weight gain. But she had never been told that the drugs he was taking might be harming his heart.
"We were never counseled by his psychiatrist or his primary care provider to watch for symptoms of heart disease or any risk of sudden death at all," Craig says. There's no evidence that Roger's medications caused his death, but his family might have been able to get him help sooner if they had known about the risks, Craig explains.
New research published Wednesday in the New England Journal of Medicine shows that antipsychotic drugs are not risk free, and the study's authors are urging much more caution in their use. The drugs are associated with a risk of sudden cardiac death, particularly at higher doses.
Craig's brother was taking haloperidol, which belongs to an older class of drugs called typical antipsychotics, which have long been known to increase the risk of sudden death due to cardiac causes. He was also on risperidone, a member of a newer class of drugs called atypical antipsychotics, which had been considered safer.
Doctors prescribe these newer medications, originally developed to treat schizophrenia, for a wide variety of problems—from conduct disorder in kids to aggressive behavior in Alzheimer's patients. In fact, they've become so popular that three of them—olanzapine, risperidone, and quetiapine—are among the 10 top-selling drugs worldwide, with $14.5 billion in sales in 2007.
The new study suggests that among patients taking high doses of atypical antipsychotics, there are about 3.3 cases of sudden cardiac death per 1,000 patients per year, which an editorial characterizes as a risk that's "between 'moderate' and 'low,' but not 'rare.'"
About 325,000 people in the United States each year die of sudden cardiac death, which has an incidence of 0.1%–0.2% per year in adults.
"[The drugs] have potentially very serious side effects," says Wayne A. Ray, PhD, the director of the division of pharmacoepidemiology at Vanderbilt University School of Medicine, in Nashville. "So whenever a decision is made to use one, consideration of potential side effects needs to be made." Ray and his colleagues found that atypical antipsychotics doubled the risk of sudden death from heart-related causes, most likely by causing disturbances in heart rhythms.
Next: Antipsychotics double risk of sudden cardiac death