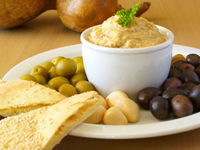 Fotolia
With so much focus on the big holiday dinner, it's easy to forget about something else that's equally important—appetizers. When guests show up, sometimes hours before the main event, you'll need something on hand to keep them satisfied.

It's easy to throw premade dip and a bag of baby carrots on the coffee table, but it's not very memorable. And chips and tons of cheese aren't exactly diet-friendly. So this year I turned to a bunch of friends (who also happen to be dietitians) and nabbed some of their creative and low-cal ideas for getting the party started.
My friend Holley, a fellow food editor, is a hummus fanatic. She helped develop this recipe called Our Favorite Hummus. It doesn't call for tahini, a paste made from ground sesame seeds, which means you can whip it up with ingredients around the kitchen. Holley likes to serve it with sliced English cucumbers, baby carrots, and pita chips (such as Stacy's). You can make the hummus up to two days ahead of time, and it'll keep well in the fridge. Bring it to room temperature about 20 minutes before serving, and stir well to bring back the creamy consistency.
Holley's new favorite appetizer is Feta Cheese Truffles, a fun and inexpensive way to serve a cheese plate. If you substitute Neufchâtel for regular cream cheese, you can cut one-third of the fat. Roll the cheese truffles in herbs, nuts, or crumbled bacon.
Warm up for your meal with these Mediterranean–inspired bites from my friend Kate who lives in Utah. Here are her top picks.
Olives warmed with fennel seeds and orange zest. You can use any plain olives for this. Once you've mixed the ingredients together, warm in the oven at 250º. Try this recipe.
White bean or chickpea puree with a swirl of your favorite herbed or garlic olive oil. Kate recommends using dried beans, but a good quality canned bean will be tasty, too. If you need more inspiration, try this bean dip.
Endive filled with crab salad, avocado mash, or hummus. Endive leaves always look elegant on a tray. You can go super-easy if you fill them with hummus and dust with a sprinkle of paprika. Or get fancy with this crab salad.
Mushrooms stuffed with whole-grain couscous, sun-dried tomatoes, walnuts, and chopped herbs. Preheat your oven to 450º. Cook the couscous and toss it with chopped sun-dried tomatoes, chopped walnuts, and herbs of your choice. Fill the mushrooms with the couscous mixture, place on baking sheets, and bake for about 15 minutes. You can sprinkle with a little grated Parmesan before serving.
Next: For those tough food critics…