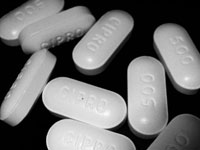 Wikimedia.org
By Anne Harding
MONDAY, Nov. 17, 2008 (Health.com) — Most of the bacteria that live in a healthy person's intestines will bounce right back after they're killed during an antibiotic attack, according to a new study.
But several types are wiped out by a course of Cipro, or they survive only in much smaller numbers, reports Stanford University's Les Dethlefsen, PhD, and his colleagues in this month's issue of the journal PLoS Biology.
Overall, about 30% of the bacterial types found in the intestine showed dramatic population changes after a course of ciprofloxacin. The majority of bacteria rebounded four weeks later.
"We have no idea what the consequences of that are," Dethlefsen says. None of the three healthy volunteers participating in the study got sick, but the alteration of their bacterial ecosystem could have longer-term, subtler effects, he adds.
The bugs in human guts are a hot topic these days. Probiotics can be used to colonize the intestines with "good guy" microbes. While the jury's out on whether these supplements have any effect on the gut's bacterial environment, it is clear that not having a thriving microbial community in one's intestines can be dangerous, with consequences ranging from a day or two of diarrhea to life-threatening infection with a nasty bug called Clostridium difficile, which can gain a foothold in patients treated with antibiotics.
"We have a very complex, diverse microbial community that lives in our guts and does all kinds of amazing things for us," Dethlefsen says. Not only do bacteria help to digest food and extract nutrients from food, but they also protect from infection, help regulate the immune system, and may even have a say in the timing of birth.
Next: Volunteers had up to 5,700 types of bacteria in their gut