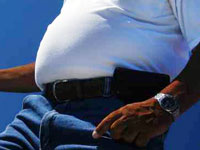 (123rf)
By Kate Stinchfield
WEDNESDAY, Nov. 12, 2008 (Health.com) — Everyone knows that being overweight increases your risk of heart disease, diabetes, and some types of cancer, but new research reveals that even normal-weight people aren't scot-free. A European study suggests that people with belly fat—even if they're at a healthy weight—have a higher risk of dying during a 10-year period than their same-weight peers without a spare tire. The report was published Wednesday in the New England Journal of Medicine.
"I was surprised that even people who would be considered normal weight in terms of their [body mass index] have a higher risk of death if their waist circumference is increased," says Tobias Pischon, MD, the study's lead author and a member of the department of epidemiology at the German Institute of Human Nutrition (DIfE).
In one of the largest long-term prospective studies in the world, a team of researchers at the European Prospective Investigation Into Cancer and Nutrition analyzed 359,387 people ages 25 to 70 from nine European countries.
The researchers found that those with a higher body mass index (BMI) were at a greater risk of dying during the 10-year study than normal-weight people.
But when they looked at waist circumference and waist-to-hip ratio alone—not just overall weight—they found that those factors were strongly associated with a higher mortality risk too. A 2-inch increase in waist circumference raised the mortality risk by 17% in men and 13% in women, regardless of BMI. The link was strongest in those who were at a healthy weight, compared to their heavier peers.
Men with the biggest girths (about 40.4 inches or more) were 2.05 times more likely to die during the study than men with waists that were less than 33.9 inches. Women with waists 35 inches or larger had a mortality risk 1.78 times higher than those with waists less than 27.6 inches.
Next: Why is belly fat so bad?